Enjoy hassle-free boating
with expert outboard servicing and sales
Get the best out of your boat and enjoy a stress-free time out on the water with regular outboard servicing and repair by Kamo Outboards. Our expert mechanics service and repair all makes and models of outboard, as well as selling quality new and used outboards.
Our customers know they're getting one-to-one customer service and honest advice from experienced outboard mechanics and wouldn't trust their outboards to anyone else.
Our unique combination of many years' experience, extensive knowledge and a problem-solving approach gives you peace of mind that your outboard is in the best hands. When you come to us, you know you're getting the same consistent standard of service each time and can rely on us to give you honest advice.
Benefits of regular outboard servicing
The outboard motor is the heart of any boat and to make sure it works reliably, it makes sense that you take care of it. We recommend that you have your outboard serviced every 12 months to ensure that it's working as the manufacturer intended – giving you peace of mind when you're out on the water.
With diagnostic equipment that can be used on most outboards, we efficiently check that the water pumps, spark plugs, fuel systems and gear box on your outboard are all working as they should. Our experienced eyes pick up any small problems with your outboard before they become more serious and become more expensive to repair.
Regular servicing can save you time, money and hassle by preventing any major problems occurring. Our outboard servicing ensures smooth boating and can help prolong the life of your outboard.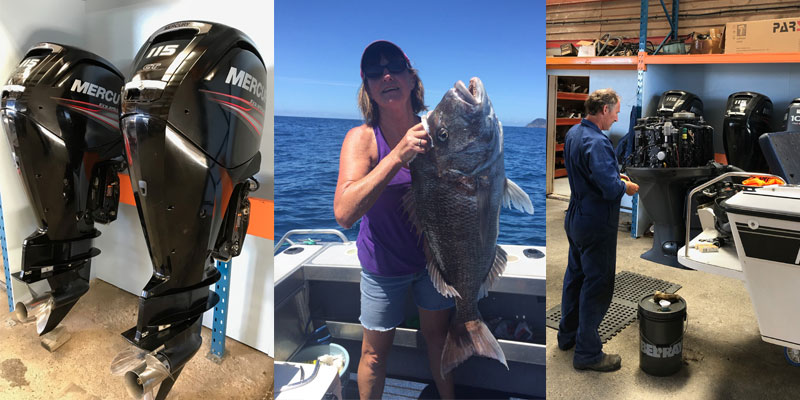 Outboard repairs
If you're experiencing any problems with your outboard, don't hesitate to bring it to the experts. We'll make sure your outboard issues such as outboards not starting, not lifting or driving forwards, are repaired with quality new and used parts we have in stock.
You can rely on us to repair your outboard reliably because we don't compromise on anything – not the parts we use, nor the time and effort we put into repairing your outboard.
New and used parts
If your outboard requires a replacement part, you can rely on us to give you honest advice. We stock new or used parts for most major outboard models, and if we don't have it in stock, we can source them for you. We'll then fit them for you in a timely manner, so you can get back out on the water with minimum fuss.
Outboard sales you can trust
When you're looking to upgrade your outboard, come and see us first. Whatever you use your boat for, we take the time to understand you and what you want to use your outboard for. You can rely on us to give you honest and reliable advice about which outboard is best suited to your needs and your budget.
We stock a range of makes and models of outboard, and if we don't have what you're looking for, we can find it for you.

Whangarei's Parsun Agent for sales, servicing and parts
If you own a Parsun outboard, then we're the team to see. As Whangarei's only licensed Parsun agent, we service, repair and sell all models of this excellent brand. If you're looking to buy a new outboard, we have a great range of new Parsun outboards in stock.
For outboard servicing, repairs and sales, contact Kamo Outboards today on 09 435 1038. We'll get you back out on the water.