From outboard repairs, servicing & sales
Kamo Outboards will get you out on the water
Kamo Outboards are dedicated, knowledgeable and experienced outboard mechanics, providing Northlanders with the highest standards of outboard repairs, service and sales, servicing and more.
We share your passion for boating, particularly here in our beautiful Northland waters, and want all our customers to enjoy a stress-free time on their boat no matter the make, model or size.
Our vision
With over 30 experience, we pride ourselves on being the go-to guys when it comes to making the most of your time on the water. Our vision is simple – to offer reliable, high quality service to every customer.
We're problem solvers at heart – that's why we're happy to service and repair all makes and models of outboards. Our customers from all over Whangarei rely on us for honest advice and reliable, professional service.
Alan Jackson
Owner, head mechanic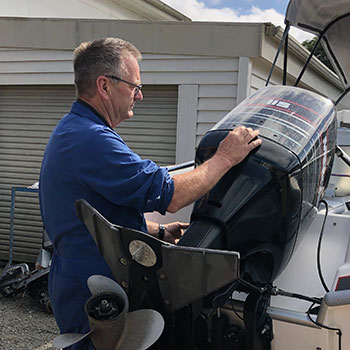 Mostly at home in his workshop, Alan began his working life as a diesel mechanic where he honed his skills.  He has hands-on, practical experience working with and on commercial fishing boats and knows his way around any make and model of an outboard motor.
He started Kamo Outboards with the vision of offering Northland boat enthusiasts reliable, high-quality service at competitive prices, and is happy to service and repair all makes and models of outboard.
Alan's knowledge of outboard motors is extensive and what he doesn't know isn't worth knowing, and he is also Whangarei's only licenced agent for Parsun outboards.
Working with other experienced and proven mechanics, Alan always strives to offer a consistent, professional and efficient service to all his customers.
For the most reliable outboard repairs, service and sales, contact Kamo Outboards today on 09 435 1038 or  info@kamooutboards.co.nz – we're happy to help.